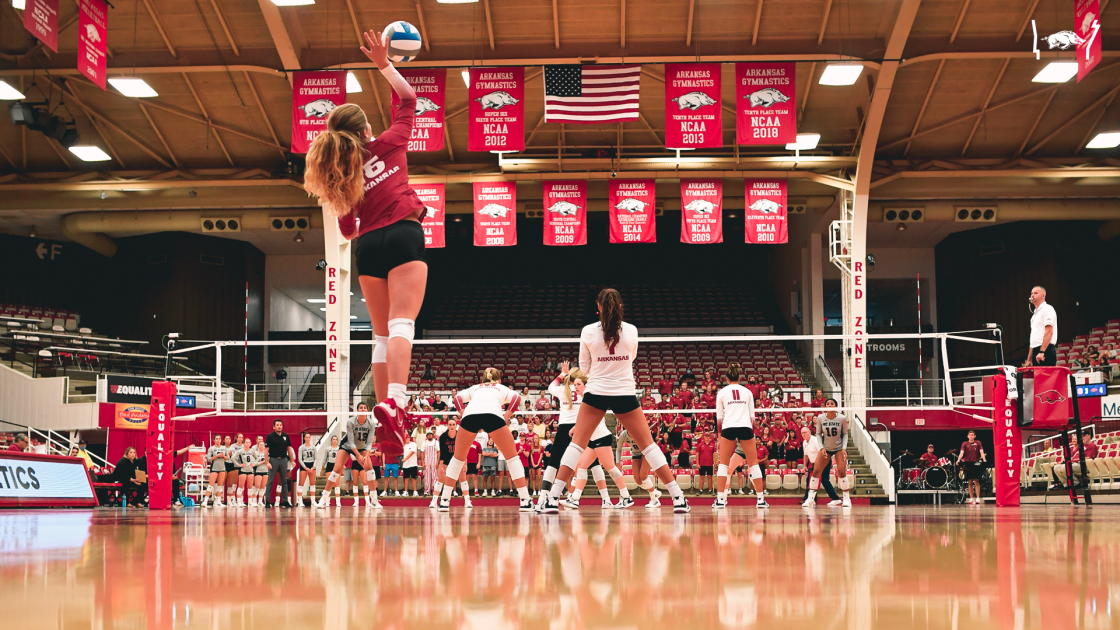 Hogs win 3-1 over Wolfpack for best start to season in 10 years
As the No. 24 Razorbacks dropped a set for the first time since Aug. 27 on Friday, the home side gutted a 3-1 win over NC State to extend their record to 9-1, the best start to the season since 2012 .
The team have dropped just six sets this season, including four against ranked sides for a 28-6 record.
Senior Maggie Cartwright paced the Hogs' offense with 16 kills and a team-best .351 hit percentage, and also had a defensive impact with four assists. Fellow senior Jill Gillen had 18 kills for the second straight night and 13 digs for a double-double.
Arkansas posted a season-high 13 blocks in the game, with graduates Abigail Archibong and Tatum Shipes adding six assists apiece.
Set 1
There were eight ties early in the first set, but the Hogs used a 4-0 run and went up 12-8 to send NC State to a timeout. The Razorbacks consistently held a four-point lead afterward and extended it to five on a kill from graduate Hailey Dirrigl and an ace from Gillen for an 18-13 advantage. NC State called time again, but the Hogs moved to first 20 on a Wolfpack offense error. The visitors scored 18 points, but Arkansas scored from there with three straight games, including two wins by Cartwright for a 25-18 set victory.
Set 2
The Hogs wasted no time to start the second and went on a 5-1 run, spurred by kills from Archibong, Gillen and Shipes, who sent the Wolfpack to a huddle. NC State couldn't close the gap to less than two from there, and the Razorbacks started rolling with a three-point streak to double the lead to 10-5. Arkansas hit the gas with a winning trio of Cartwright and Gillen for a 16-10 advantage and NC State called again. The Wolfpack veered on six more runs and threatened the Hogs late at 23-16, and wasted a set point for Arkansas, but a Cartwright kill finished the second 25-19 in favor of the local team.
Set 3
Arkansas once again got off to a strong start in the third with a 6-1 run, which featured eliminations from Cartwright and Gillen and three offensive errors from NC State. The Wolfpack couldn't do much after a timeout, and despite adding five more points, the Razorbacks added a pair for a seven-point advantage and NC State called again. Head doubled Arkansas' lead to 16-8, but the visitors went on a 6-1 run to cut the deficit to one. Arkansas then took a time out and the Wolfpack quickly caught up. The Hogs reached set point once, but an Arkansas offensive error and NC State kill made it 26-24 for the Wolfpack and made the game 2-1.
Set 4
The fourth set was tight between the two teams with three draws until the sixth point. NC State then led by two, but Arkansas wouldn't let it grow any bigger than that. Two Wolfpack offensive errors put the Hogs back in the lead at 11-10, and NC State called time. Arkansas then went 4-1, with a pair of wins from Cartwright, and led 15-11 when the Wolfpack hunkered down. The Hogs kept their momentum going and didn't let the visitors make up more than three points afterwards. A Dirrigl kill put the Razorbacks up 20 at 20-17, and while NC State cut the advantage to a pair, the Wolfpack ran out of time. Two kills from Cartwright made it 24-19, and NC State hit 20 with one kill. Shipes then closed the door with a kill for a 25-20 finish and a 3-1 win.
Next
Arkansas opens conference play with an away game in Baton Rouge against LSU on Wednesday, Sept. 21 at 7 p.m. The match will be broadcast live on SEC Network Plus.
More information
Visit ArkansasRazorbacks.com for the latest information on all things Arkansas volleyball. You can also find the Hogs on social media by liking us on Facebook (Arkansas Razorback Volleyball) and following us on Twitter and Instagram (@RazorbackVB).